A little while back I made grilled pizza for the kids. I had tons of ingredients that were meant for toppings left over and I was getting to the point where I was either going to have to use them or throw them out and so I decided to throw it all together with other stuff from my pantry and just make something happen. But as I started assembling I just knew a delicious meal was in the works. I snapped a few pics to share:



I had some ground Italian sausage in the freezer so I got it out and cooked it in a skillet.

Then I chopped up the pepperoni that was left. I also used what little spinach was left. The mozzarella balls were about to expire so I needed to use them.

---



I had 2 small jars of pizza sauce but I really thought the dish might need some more tomatoes so I broiled tomatoes. YUM! This really has such a deep rich flavor. It's the best.
I had some regular size shells in my pantry that had been there since spring so I decided it was their time. I boiled some shells and rinsed them with cool water when they were al dente. Then I just combined all of the ingredients in a casserole dish and baked at 350 for about 30-45 minutes until the cheese was melted and it was warm and bubbly. And because I didn't cut the mozzarella balls you would have little pockets of cheese. Obviously you could add to this recipe. Olives would be great or if you had some fancy schmancy cheeses like Italian fontina you could use that too. It's really hard to go wrong here. Just throw it together with a dinner salad and some crusty bread and you've got a yummy warm winter meal. It's perfect for a Saturday evening a

---

I first had orzo pasta salad many years ago at The Twisted Fork in Tulsa at Utica Square. I don't even know if they serve it anymore. That had to have been in the early 90's when I first had this. I was only able to find orzo at Whole Foods in Austin and so I set about trying to copy their recipe. Since then I've made this several times and the ingredients change according to what is fresh and in season.
Mom's of picky eaters take note: One time I had this in my refrigerator and a friend who was a very picky eater came over and fell in love with this dish. That particular time I had been short on time so instead of chopping my veggies by hand I gave them a few pulses in my food processor. This person never knew there was carrot, squash, zucchini, spinach, and onion in there! It was flavorful without big obvious pieces of veggies.. so, try this out on your kids!



For this dish I used about 101-15 spinach leaves, diced bell pepper, 1/2 small red onion, 1 minced garlic clove, halved tomatoes, diced cucumber, feta cheese, toasted pine nuts, parmesan cheese, and Italian dressing, and of course cooked Orzo.

---

You can add a couple of different types of chopped olives for a more Greek version of pasta salad.



To toast the pine nuts, put them on a pan under the broiler but
DO NOT WALK AWAY!

It takes such a short period of time for them to begin browning. This took less than 2 minutes.

---

As you can tell, I finely diced the veggies. That was half of a small red onion but I really would use 1/4 next time. And my garlic clove was gigantic! I loved these little grape tomatoes!

Just cook your orzo according to the directions on the package. I used a cup and a half. After the orzo is cooked rinse thoroughly in cold water until the pasta is no longer hot. Then drain well.
Put the orzo in a bowl and toss with just enough salad dressing to coat the orzo. This used maybe 1/4 to 1/2 cup. Then add the remaining ingredients and stir. Add the parmesan cheese last. This salad is best when refrigerated for a while before serving but you'll have a hard time not nibbling on it! If it seems like maybe it's not sticking and seems to "wet" just toss in some dried bread crumbs. :)
I've experimented with making my own dressing for this but really, why? It's just as good if you use a bottled dressing.

This is the perfect dish for a summer gathering! Enjoy!!
Powered by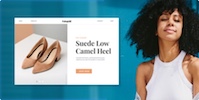 Create your own unique website with customizable templates.